It's September 2021 and events are coming back at pace. 
All across the usual places, there's post after post of people excited to get back to the world of face to face IRL conferences. While things are not quite back to normal, it is great to see. Long may it continue.

I've got two trips to London this month, both of which are to take part in conference-exhibitions. One of those trips is the classic single day hit to the Excel. That's no small undertaking from my home in North Somerset. It's a long day, and one that in the past I used to roll my eyes at. Not this time, gone is the battle hardened event warrior and in its place is genuine excitement about getting on the train, the tube and the DLR. I'm looking forward to being in the Excel, elbow bumps and all.
Having events back in the game has meant dusting down the prep checklists. My own experience of big conferences and shows goes back as far as 2010, when my job was to sell the stand space and the awards sponsorships at A4U, now PerformanceIn. Shell scheme, space only, electrics, category sponsor, drinks reception sponsor, headliner… all of it was my bag. (Read more about those days in my bio).
And this got me thinking, when companies choose to sponsor and exhibit at a tradeshow, it is a big decision. This can typically take weeks with lots of people involved in getting to the 'let's do it' moment and the budget being approved. Then, all too often, that same company doesn't capitalise on the opportunity. And the reasons are entirely avoidable.
Where does it fall apart?
From paying over the odds, to sending students to be on the stand, to just not turning up… I've seen some odd things happen over the years. Here's some ideas of how to get the most out of the whole process of exhibiting at a trade show and avoid any needlessly awkward post-event wash up meetings with senior management.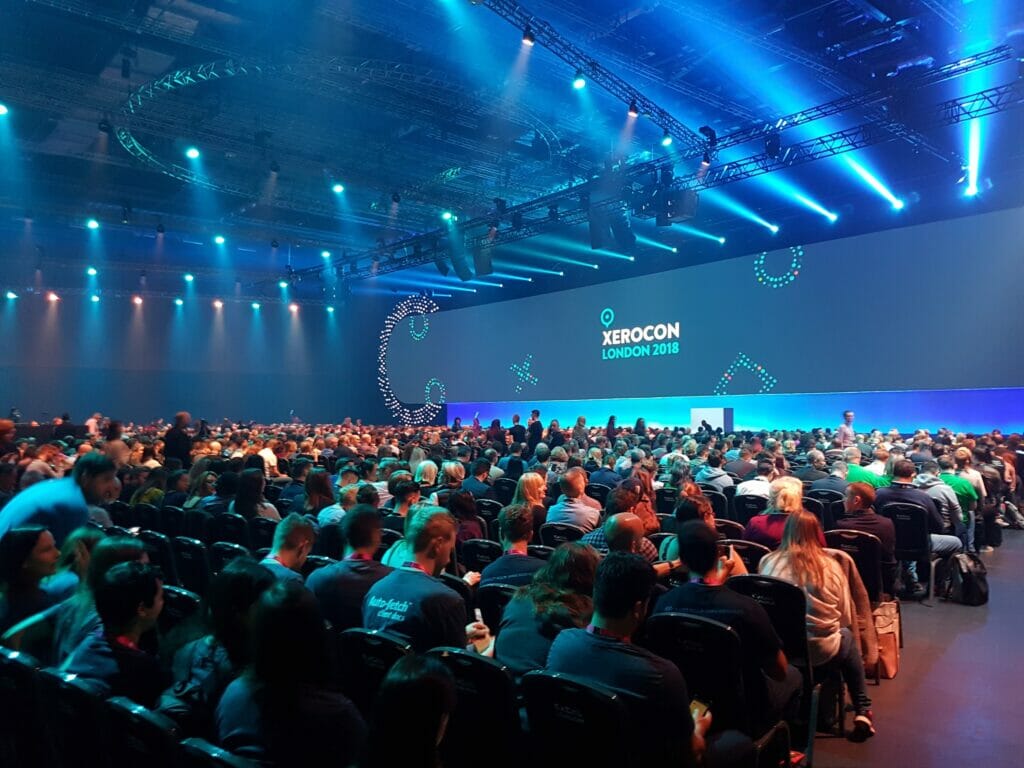 Xerocon 2018. Three years ago. A lifetime ago?
1. Know why you're doing it
It's not uncommon for the timeline between booking and attending the event to be several months. There's a potential trap here. If the goal is brand awareness, have that written down and communicated far and wide internally. Ideally, set a KPI and measure it.
The danger is that somewhere on the timeline between choosing to sponsor and exhibit and then going, someone senior forgets why you're doing this and what its role is in the marketing plan. The slip-slide into measuring success by leads and leads alone can easily happen. And if it was a brand campaign at the start, the likelihood is that leads won't be plentiful. Don't let that be the reason the whole endeavour is then viewed as a failure.
Of course, if lead generation is the goal, then set targets for how many scans on the stand and have a plan for what to communicate post event.
2. Be absolutely sure your audience will be there
Sounds obvious, but this one can get people in a right old pickle. When taking the plunge to sponsor and exhibit, if it's an SME audience, don't send your enterprise team. No-one is going to enjoy that conversation.
3. Location, location, location
Ugh, stand tumbleweed. The difference between a busy and not so busy stand location could be the difference between success and failure. It does not correlate that the more spent on the stand = busier stand. The absolute best way to know where to be on the floor is to visit the year before (assuming roughly the same layout of course.) The next best option is to give in to the realities of what we're all like when we attend – be close to good coffee, be close to food, be close to the big sexy brand in the industry, be next to the stage which has the content most relevant to your audience. 
High foot fall wins every time. Don't confuse that with being right at the entrance, I've seen it where the stands by the doors are ignored because peeps are either determined to get in or determined to get out. We've all seen the events 'thousand yard stare' over the years. My own stare has been perfected, is paired with a determined strut, and is pretty unbreakable.
Don't be shy with a one side open stand. Be bold, have two or three sides open, or go for the totally open stand. Put your own food and drink on it. Make it look inviting. Make people want to come and have a chat.

4. Haggle

OK, lifting the lid here on the job of selling the exhibition space. 
For every show I worked on (and I did more than my fair share), there is ALWAYS a discount to be had.  
The PDF of the exhibition floor with 'reserved' sprinkled liberally around should be viewed with extreme caution. I'm not suggesting event organisers aren't good people but, well, let's just say, the version that gets sent out often has a very positive spin on reality. Very positive.

The easiest way into getting a discount is the headline sqm rate. Either a discount off the quoted rate or bagging a shell scheme for the space only price. That kind of saving is tangible and easy to tell the boss about. 
Behind that, there are more ways to save. Events can get expensive via the extras. If it's possible to get things like electrics, lamps, furniture, wired internet and likes all thrown in for free, that can add up to a decent saving as part of the overall budget.
One word from the wise though. If you get referred to the local contractor for stand furniture, TVs, corkage on drinks etc then pretty much forget it. No discounts here, mate.
5. What you do in the run up is everything
This is a biggie when it comes to getting that return from choosing to sponsor and exhibit. A way to turn average into amazing.

There can sometimes be an attitude of once the event has been chosen and booked, the work is done. We can sit back now, we're booked on. Nope, the work has just started.

The businesses I've worked with who take the most out of exhibiting at an event go into overdrive in the weeks running up to the live dates.

First things first, let's get the basics right. As part of a package there will typically be opportunities to have the company logo and bio across the event web and print collateral. The number of companies who don't even supply a decent hi-res logo and a 30 word company bio (or speaker bio) is simply baffling. If nothing else, event companies are usually decent marketers themselves so getting a nice backlink from a domain with decent authority for little work is a nice bonus.

Book a call with the events team early and ask them about their marcoms strategy and how you can feature in it. As sponsor / exhibitor what you might not realise is the events team are sitting on a content plan which has gaps on it. Get in early enough and you might just get some additional promo across their channels (and a big event will have some big reach) without necessarily having to pay for it.

Speak to the event PR partners. Either ask for an intro or just go direct. The number of times I have seen a disconnect between the work the PR agency is doing and the event team is unreal. You never know, there might just be some quality PR to take advantage of here which has already been paid for by someone else.

And finally, find out what is possible in terms of knowing who is going to attend. Even in the GDPR world we are living in, it is often possible to know who is going, usually without email details. This is one of the few moments where a LinkedIn inmail can earn its keep. A well crafted message inviting for a meeting at an event you know they are attending can yield good results. I've seen previously unreachable big hitters accept a meeting and turn up on the day.

There is of course much more that can be done around the decision to sponsor and exhibit. For example, it's fairly straight forward to tack on hosting your own party the night before for your company's VIP customers who you know will be in town. Ah parties, remember those?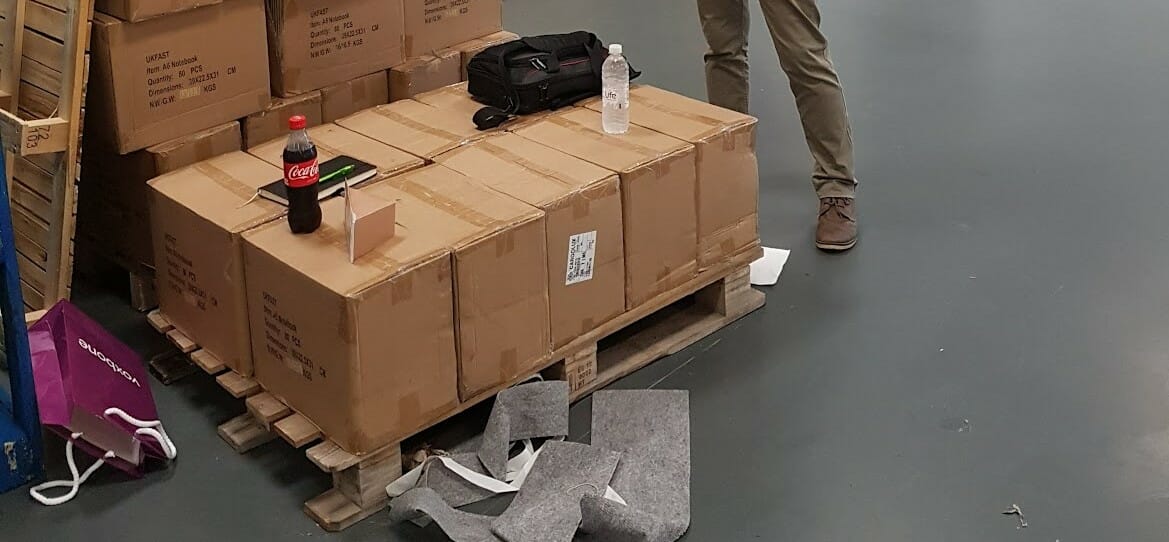 Events. 100% glam all of the time. Living the dream backstage at the Olympia, 2016
6. Don't leave the travel to the last minute
It's a fact of life that closer to time, flights get more expensive, train ticket offers expire and hotel rooms get booked. You're committed, you know how many people (roughly) are going so just get on with it and book the travel and hotels now, not later. 
The costs of changing names further down the line is often trivial to forking out for a flight to Copenhagen 24 hours before the day in question.
7. Put people who know the product on the stand

Please, please do this. Putting students on the stand who have been drafted in that day is the ultimate expression of the loss of focus between booking and delivering. Why come this far with the decision to sponsor and exhibit only to ruin it at the last moment? I've seen this car crash in motion several times over the years. I won't name names, but I remember clearly watching people who looked like they were genuinely interested in talking with a SAAS company only to be utterly turned off by the drafted in temp who could only say
'I dunno, here's a leaflet, I'm only here for today.' 
If you're going to invest in the event, invest in that final few yards and field a strong team. If the opportunity cost makes doing the event unpalatable then just don't do it at all.
8. Be nice to your team

Doing the stand thing is hard. It's a long day, sometimes days, and it is utterly knackering. If that's your team out there then scoop them up, take them for dinner and look after them. Just be a good human.

9. Don't get wasted

Which nicely leads me to this. As the person on the stand, it can be VERY tempting end of day one to get loose. There's probably free beers somewhere in the hall from mid afternoon, there's likely a networking bar immediately after floor close and there may even be a nice dinner (see above) with a tab. The pressure of the day combined with the abundance of available alcohol and the added spice of potentially being in a foreign city… well it can all add up. 
If you're going to bed and it's light, you've done badly. We can smell the booze on your breath on day two. It's not big. It's not clever. 
10. Follow up, follow up, then follow up again
The event doesn't stop when the last punter leaves the hall. Just like in the build up, what action is taken in this phase can make a difference.

Basics again, make sure someone has logged the data. If it's via a scanner, get it out of the events system and into your drive on the day. Don't risk things getting lost.

The next action is also critical. Most of the exhibitors will do nothing next. Some will set into play an aggressive email marketing campaign from 5.01pm. Gah.
Here's an idea, why not phone people in the middle of the following week, once the dust has settled and have a sensible conversation about what they thought of the event and what their takeaways were. Then, and only then, have a little push on your proposition. It might just get the results you were hoping for.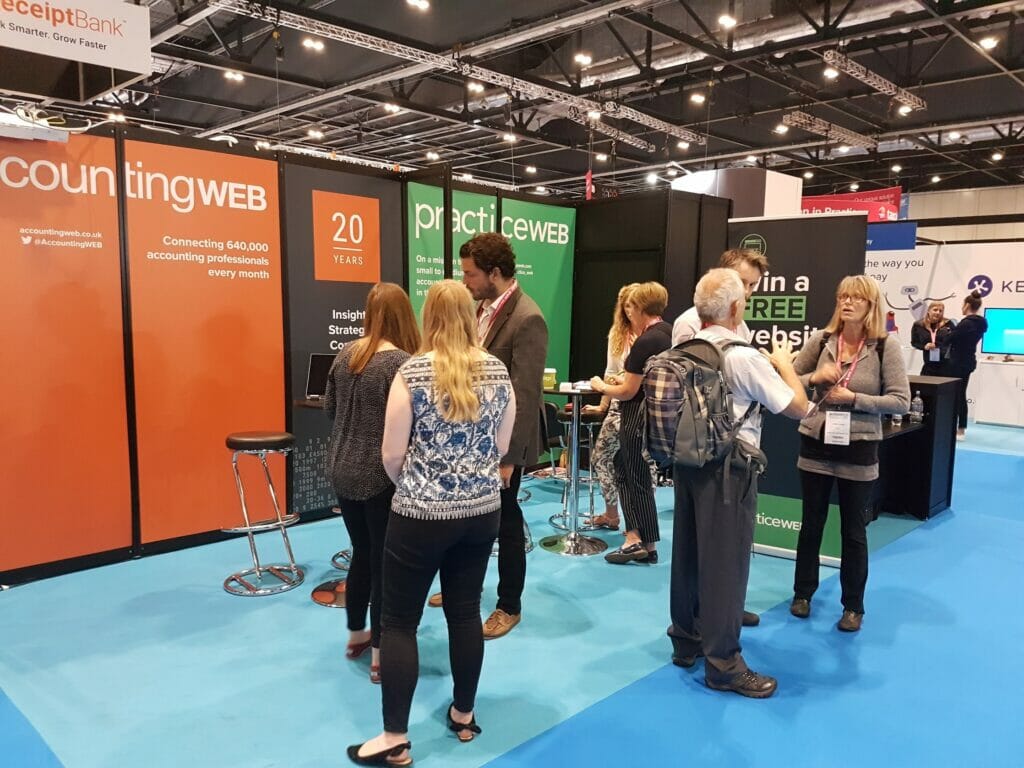 The finest stand chat in action, circa 2017
11. And breathe…
Quite a lot of serious stuff here. The final thought from me is that we should all grab the opportunity to enjoy making new connections. I, for one, promise to have my ears pinned back and ready to listen to anyone who wants to talk to me. Want to pitch me, fine do it. Want to have a chat, great. Want to catch up, absolutely. It's been a long couple of years.

Bring on the events.