Download our
Commercial Deck
Find out about all the services Make the Break offers and if they are right for you..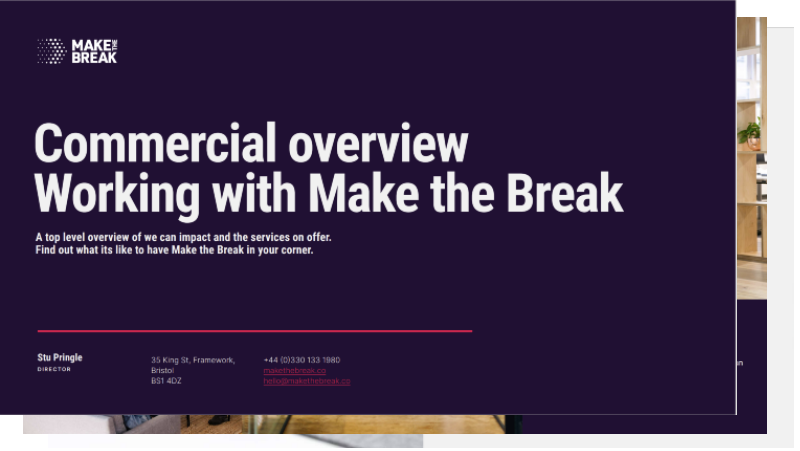 Frequently asked questions
Where are you based?
The team are based in South West England, not to far from Bristol.
We work with clients who are typically based in the UK or Europe and who have people across the globe.
How does it work?
It usually starts with an initial chat. If we both feel that there is a good fit (both personality and need) then a more in-depth conversation is a good idea. From there, we can put together a detailed scope of work for you to approve before we start working. That way there are no surprises and we all know what is the definition of done.
How much do you charge?
Full details of all services in our Commercial Deck.
Every project is to client specification and agreed upfront.
An initial BD Healthcheck is £1,375 plus VAT.
Commercial strategy workshops are £2,750 per workshop plus VAT.
Marketing content strategy workshops are £2,750 per workshop plus VAT.
Sales Director as a Service is from £1,500 per month plus VAT.
Demand Generation Agency retainer is from £3,000 per month plus VAT.
Will I be tied to a long contract?
No. Each project is built to spec and that can include timescales. Client briefs can range from short, sharp help on a specific project through to ongoing business development support.
Who does the work?
After many years of agency life, we are in the fortunate position of having a solid network of expertise to tap into. If there is a need for a particular skillset, and it is in your best interest, then we will involve an expert from our network. You will know who it is, why them, and what they are going to do before they start any work on your project.
Why should I choose Make the Break?
Good question. We started this business because we saw a need for business development skills-for-hire in the renewables sector. On the one side, there are small and techy start-ups and on the other some of the biggest utlities globally. Those two groups sometimes struggle to understand each other.
We work to unravel that and make your BD processes simple and effective.
Combined, we bring many years experience to the table and we are still regularly making sales calls today, this month, next month… If you think you might need that expertise, then let's have a chat. We can find out if there's common ground.
If it's not what you need, or we have a radically a different approach then that's ok. 
When should I not choose Make the Break?
Let's start with the big stuff – if you are sizing up options for support and you project is not about business development, sales or marketing then we are very probably not the person you are looking for. ERP, back office, finance etc that is just not our thing.
If you have a mass market B2C product that is 'for anyone' then again, we are probably not right for you.
If you are not in some way to helping the macro challenges of energy and climate change then we are not for you.
And finally, if your idea of targeting is to phone any business starting with A and just keep going then again, we are very likely not your contact.
Do you do websites for clients?
Nope! After some refocusing, we have come to the conclusion website delivery is not a core service. We are happy to recommend trusted contacts and also take a role as a reviewing stakeholder in your website project.
How quickly can you start?
We have been in the privileged position of being heavily booked up ever since the business started. The sooner we are speaking, the better!
Let's start a conversation
An opportunity for you to talk through where your business has got to and where you would like it to be. We can look to see if we have common ground and if our skills are relevant for what you need.  Together we can spec out a project and get going.