With COP26 about to kick off, all eyes are on the future of renewables
In just a few days time, COP26 is about to begin in sunny Glasgow. The hot topics will no doubt include the accelerating indicators of climate change, sustainability and the pressing need for energy transition at a global scale.
A few weeks ago, on a slightly smaller stage, I was asked to host a virtual panel on behalf of Empire Engineering. The discussion was focused on the burgeoning offshore wind sector and how one of the challenges for growth is finding enough engineering talent to fulfil the huge number of planned projects. The audience was composed of a spectrum of experienced engineers through to students, all of whom were either already in the sector or looking to make the move across and build a career in renewables. 
With COP26 about to open its doors, it felt like a good time to share the insight from that session. If this post helps even one person transition to a career in renewables, then all to the good.
The panel was made up of engineers from Copenhagen Offshore Partners, RWE, Scottish Power and Empire Engineering. The final member of the panel was a specialist recruiter in the sector/ George Jamison added a huge amount of knowledge from 'the other seat' in the interview process. 
As chair, I was in the unique position of being able to ask questions to people in the industry, all of whom had made the jump from more traditional sectors and into renewables, specifically offshore wind.
I used the opportunity to ask them for their advice to pass on to engineers in other sectors, who may be looking to move into renewables. Their answers were illuminating. Here are their top tips for those looking to build a career in renewables.

1. Sort your CV out
The panel all agreed the CVs they see day in day out had some basic errors. Long rambling personal statements are out and list of achievements are in. 
There is a trap which many fall into by filling those first few lines of a CV with stock phrases like 'working as part of a team as well as independently' or 'attention to detail' when what hirers really want to know is what this person has delivered in the past.
If previous achievements are not in sector, this is not a problem. Skills are transferable. The panel cited the example of oil & gas turnaround project experience – successfully managing the kind of high pressure which comes with delivering turnarounds can be hugely relevant to engineering projects in renewables.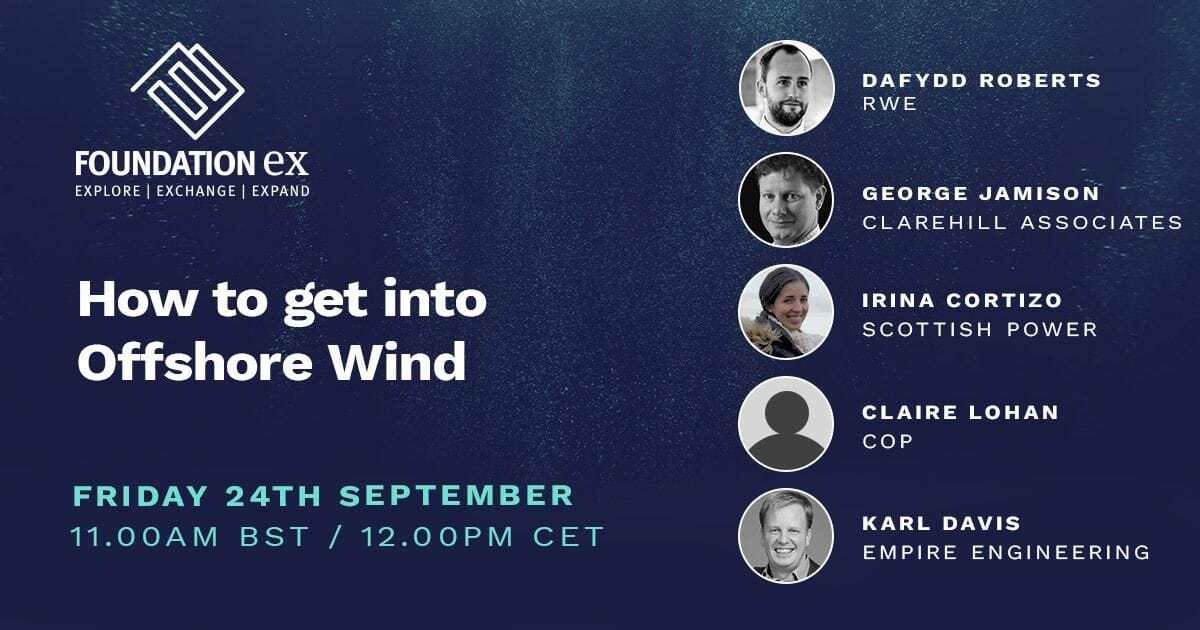 Host of the Empire Engineering session, 'How to get into Offshore Wind'
2. Show me some passion
What about the person just starting out in the first phase of the career and limited experience?

Again, this should not been seen as a barrier to getting into the industry. The panel recommended highlighting relevant efforts to elevate your profile among other applications. 
Examples include: volunteering; conferences attended; groups participated in; membership bodies etc. All of these show a desire that is much more effective than saying 'proficient at Microsoft Office.'
3. Accept a degree of compromise
All of the engineers on the panel had come across from other industries. When telling their own stories, the move into offshore wind had involved an element of compromise.
How that compromise manifested itself varied between the speakers. Some had made physical moves either domestically or internationally to get into offshore wind. Others had taken more junior roles or lesser pay than they had previously enjoyed. Interestingly, those who had gone down that route had in the matter of 3-4 years, progressed up in their new industry and were now enjoying more responsibility and higher levels of pay than any of their previous jobs.
It was clear from listening to what the speakers had to say, they felt there was a tendency for experienced oil & gas engineers to think the move was going to be easy and they could instantly demand the same salary as they have been used to. The panel felt this was unlikely and a little bit of compromise either on pay or location would probably be required at least in the short term.  
4. You want a career in renewables? Do it now!
In the wrap up, one of the most interesting points was made by Karl Davis from Empire Engineering. The best time to make the move is right now. The skill gap is real, the demand for people is real.
The window of opportunity will not be open forever. As macro forces move from traditional power to renewables, with it so will people move en-masse. The pool of potential people who might want to make the move is vast. The opportunity is to get in ahead of the masses and build an amazing career in renewables. In the words of everyone's favourite Austrian body-builder, actor, turned politician DO IT NOW!
Are you nodding along while reading this?
Well, why not get in touch and see if Make the Break might be able to help you out. What have you got to lose?